Hana's Story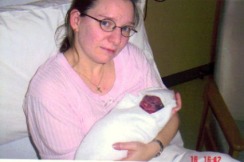 Mummy's cuddles
When I found out I was pregnant with Hana I was so excited and she was a much wanted first baby. The pregnancy was going well and both scans were fine. On Thursday 12th Jan 2006 I realised I hadn't felt any movement for a while but people kept telling meit was normal and, being my first pregnancy, I didn't worry. Then on Friday 13th, I decided to go to the doctor just to be checked. My GP said he heard a heartbeat and felt movement but as I left, I told my Mum who'd come with me that it didn't sound right to me. The following morning I still hadn't felt anything so phoned the hospital and was told to go to the delivery suite. The midwife tried to find a heartbeat but couldn't so gota doctor to come and do a scan. As soon as I saw Hana's little body on the screen, I knew she'd already gone.

I then had to go home and return to the hospital on Monday 16th to be induced and Hana Elise entered the world at 4.03pm looking like a perfect but tiny little angel. She weighed 1lb 8oz, had dark brown hair and looked so beautiful.

My parents took photos and brought Hana a teddy, as did her Auntie Kat. I had a blanket to wrap her in and this is now one of my most precious keepsakes. Hana's Uncle George, Great Auntie Julie & cousin Gemma also came to see her. I got to spend the night in hospital with Hana and leaving her the next day broke my heart.

I then went through the pain of registering her birth surrounded by people with their healthy new babies doing the same but in better circumstances, and planning & attending Hana's funeral.

Since then, the pain is still strong but at least I have my keepsakes, photos and memories.
---